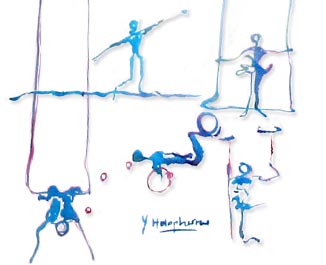 The pictorial option that Yvelise HOLOPHERNE proposes is very interesting, in so much as she recounts history, defines the picturesque, and regionalizes motifs and colours.
This is how she structures an evocative flow that is difficult to wield, but thanks to which the artist successfully expresses her talent as narrator and colourist. Her style is modern yet accessible, and has an expressive poetic quality that is very finely analysed.
Yvelise HOLOPHERNE has a flare for creating a great many strange and unusual characters who are nevertheless integrated with ease onto the canvas where the brush-strokes, masses, colours and expressions form a flavourful artistic language.
Undeniably, through her technique, Yvelise HOLOPHERNE guarantees grace and elegance. This can be seen in the bodies, postures, sites and floral arrangements as they grow in colour and in light. Simultaneously, finesse and allusion to space animate a vital poetry in this silky and clear fluidity created by the water-colours and evocative pastels.
And all this is the result of the dreams and impressions of an artist whose talent and intelligence form a magical and precious whole.
André RUELLAN, art critic

INTERIOR GARDENS
Just the sound of her name leaves you navigating the meandering paths of your imagination, as though it were some sweet-smelling perfume out of a fairy-tale: Yvelise Holopherne. You must be wondering what character could possibly be hiding behind these six melodious syllables, in which case you would be surprised to find someone so evidently humble. The combination of water, joyful colours, and paper could have come straight out of the picture-books we read as children. And suddenly the dream takes shape…
Her desire to paint goes back a long way, and it may well have been shelved for a while as life took its course, yet it never left her. So from a young age she attended various lessons and workshops to learn the basics of drawing, painting and illustration, showing a clear preference for watercolour, with its light and evanescent quality.
How can I describe her painting, apart from by trying to compare it to a garden: an English garden, of course, where curves unceasingly defy both the dictates of the straight line and the obsession for symmetry. It is home to winding paths bordered with flowers, and there is a hint of baroque, allowing the eye to stray at leisure, without map or preconceived itinerary. "I always work with music" admits Yvelise Holopherne. And she undoubtedly prefers softness to impetuous structures that are intimidating and overanalyzed, the fastidious order of which certain composers impose upon you.
Painting for her is perpetual recreating, a playground, poetic exploration, a sensorial and recreational experience aiming to inspire an atmosphere where the familiar can unite with the strange: the corner of a kitchen, a tune, a circle of children playing, a game of cards, a landscape cloaked in snow…. At first, she has no preconceived ideas, but a desire to let herself be carried, explore, and be swept away by the emotions, the fantasy, the jubilation, and the ephemeral magic of the moment that is in complete harmony with her instinct and her fine feminine perception of things.
Her brush stroke is spontaneous, uncalculated and free from speculation, as though liberated from the necessity to prove something or obey to a constraint (which is not the case with sculpture, which she also practices, crafting with the much more demanding material that is earth). There is, in her arabesques, a piece of childhood that has remained intact, protected from the obstacles against which so many dreams are shattered, maiming our souls forever. The "illustrative" and "narrative" aspect of her approach is most attractive, so we are not surprised to learn that her reading material inspires her, notably poetry. "I am quite a literary person" she admits, while commentating the book she is as absorbed in as the story she is simultaneously telling, or whispering, I should say, with her brush: a brief spell of her life that she will abandon only to live another, abandoning herself each time to a subject's charm, or the sweetness of an enchanting meeting, as her mood takes her.
Luis Porquet